Improvements for Marine Hoses with reattachable fittings
Our marine hoses STW 125 and 150 are now available in a coil length of up to 40 metres.
STW is a hose for petroleum based products, mainly used for loading and unloading bunker boats, tankers and Navy ships. It is manufactured according to German military standard VG 95955 and suitable for suction and pressure service as well as for gravity discharge.
For further information see catalogue page 129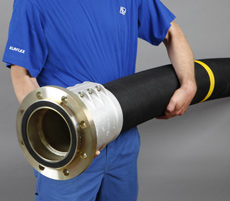 There is also an improvement regarding flanged hose couplings DN 150 for marine hoses (STW 150 or FHD 150). The special type DFC - previously only available in aluminium or brass - is now also available of zink plated / chromated steel.
The advantage of the DFC type: due to the captive seal ED 150, there is no need for a flange seal, enabling a quicker assembling. Further, the captive seal will withstand a large number of coupling operations.
Part number DFC 150 St - see catalogue page 274