Section 3: Tank + Pipe Couplings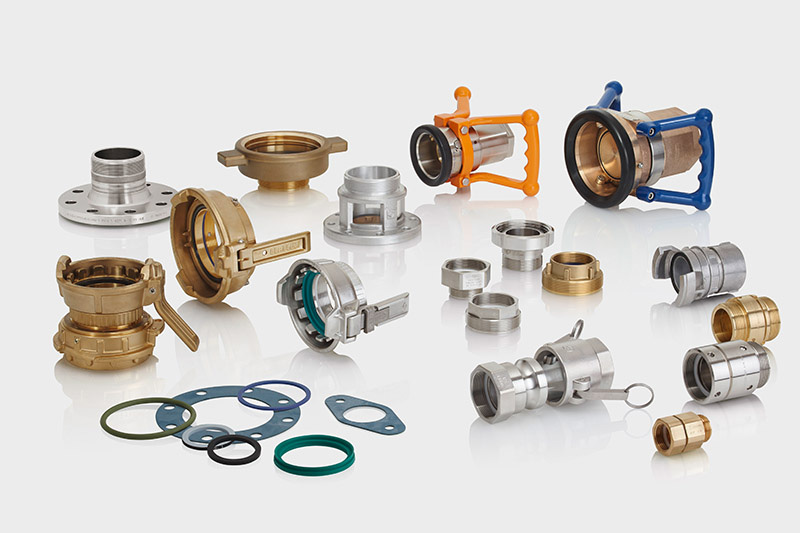 Tank, Pipe and Hose Coupling Components.
In catalogue section 2 you will find couplings and accessories as single components. They can be mounted to hose assemblies, to pipe systems, tanks and road or rail tankers. Additionally we offer a large range of adapters, caps and plugs, swivels, flanges with thread, welding flanges, sight glasses, and spare seals.
We will supply only standard compliant quality components, the major part from own production.
Our service goes beyond the standard programme you see in the catalogue. We will supply any other required coupling, either commonly traded or of special design, as long as it is in our range of competence.ion.
Quality Example: TW Couplings from the Specialist
TW road tanker couplings to EN 14420-6 (previously DIN 28450) were developed approximately fifty years ago, among other with ELAFLEX HIBY contribution. These couplings with their simple and leak-free connection substituted many non-standardised coupling types, a standardisation which made sense..
During the past years, prices and unfortunately also quality came under pressure with many suppliers. One should not forget what it is all about in the refuelling business: good value products - without compromising safety and functionality.
In view of many low-priced TW-couplings in the market, the user should not forget what is important when transferring costly or hazardous media: a good price-performance ratio, without compromising functionality or safety.
ELAFLEX HIBY 'TW' couplings are manufactured according tight quality standards:
more than sufficient wall thickness for resistance against wear, thus longer service life
dimensions true to gauge, checked with exact measuring equipment, for reliable functioning
brass couplings are hot stamped (heavy forging dies, maximum stability against cracking)
stainless steel couplings investment casted, free of shrink holes, electro-polished surface
material specifications stipulated by the standard are met (something that unfortunately can not be taken for granted any more with many manufacturers)
careful processing of the raw parts• first choice spares, e.g. springs, bolts and sealings
clear manufacturers branding - inportant in case of product liability issues. Next time you are confronted with low priced TW couplings from competitors, please note whether you can individuate the manufacturer of the product. Even for simple applications such as the bulk transfer of grain or cement, broken couplings (we can show you several examples) can lead to high consequential cost due to product loss. Without knowing the manufacturing company, you might be liable. Trying to cut corners to save a few euros can be a very costly experience.