Section 1: Petrol + Chemical Hoses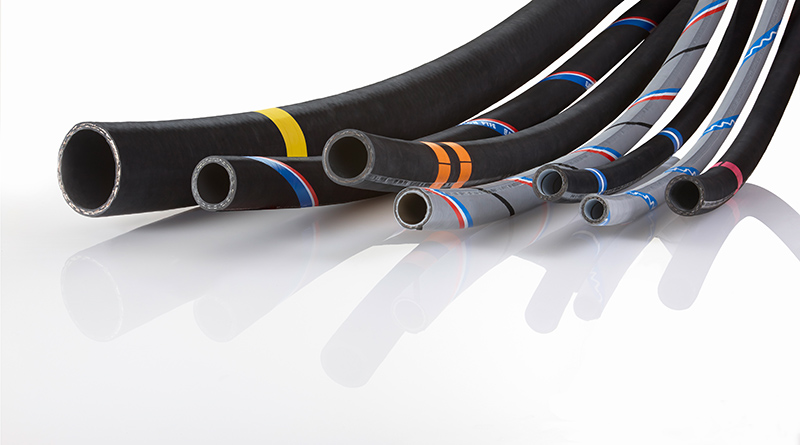 With hoses from ELAFLEX HIBY you simply make the right choice. As they are used for dangerous goods we acknowledge responsibility for our products. You only get Premium Quality from ContiTech Germany, exclusively made for ELAFLEX HIBY. You will NOT get internationally sourced no-name hoses branded as own products.
Our large hose stock, comprising of all commonly used types from the catalogue, is available in sizes DN 9 mm up to DN 200 mm, for petroleum based products, L.P. Gas, chemicals, pharmaceutical products and foodstuffs.
This stock allows us to keep delivery times to a minimum.
Our Service: The Complete Hose Assembly.
There are three prerequisites for a perfect hose assembly: suitability and quality of the components, their compatibility with each other and professional assembling.
For decades, this is our 'core competence'. We ensure that our customers receive a suitable combination of hose and coupling – not only for self-assembling but also as ready-to-use hose assembly.
After consultation, or to your specification, we take care of the rest. Hose cut to length, assembling of hose tail and clamps, mounting accessories, testing (electrical conductivity and pressure test if applicable), additional marking, quality control and issuing of test certificates. ELAFLEX HIBY is certified to issue conformity declarations according to the European Pressure Equipment Directive. Prior to dispatch the hose assembly is marked according to standard specification, and finally quality checked.
Accessories : for the protection against kinking, abrasion, torsion and heat we can supply a range of additional parts which will help to prolong the service life of your hose assembly. Also for the additional marking to customer's requirement there are possibilities, e.g. with Band-It. If required, we will also gladly take over the assembly of parts supplied by the client.
Distribution to the user normally is effected by our stock holding Sales Partners. These local links to the customer assemble complete hose lines-functional and finely tuned to your needs. Apart from fast and professional service some ELAFLEX HIBY Sales Partners offer mobile pressure tests or assembly on site.
Please take advantage of the experience of our sales team. Alternatively, for an easy and quick choice: use our new Hose Assembly Configurator!
For dispensing hoses (forecourt) products, please address to the EHT sales team.
For all other types, please contact the SAT sales team:
Fuelling Reel Hoses
Tank Truck Hoses
Vapour Recovery Hoses Stage 1b
Aircraft Refuelling Hoses
Liquefied Petroleum Gas Hoses
Chemical and Solvent Hoses
Universal Hoses- Speciality Hoses
Pharma Hose Assemblies
Marine Hoses- Bunkering Hoses
Hot Bitumen Hoses
Steam Hoses
Composite Hosesplease